Bringing a dog home for the first time is a wonderful adventure. It might get a little complicated if there happen to be other animals in the home. In many cases, the other animal happens to be a cat or sometimes another dog. No matter what the animal is introducing them to each other has to be done cautiously.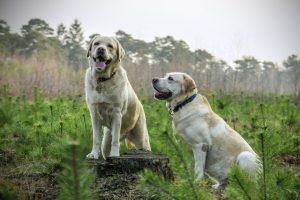 Introducing the New Dog to the Old Family Dog
If you already have a dog then this one has laid claim to your home. Now you are bringing in some competition. Before doing this be well aware of the nature of your original dog. If this one has a placid friendly nature then the introductions may not be too difficult. Still, proceed with caution. Don't forget the old dog is now having to accept another dog into their home. THis means they have their toys, food and family members that are at risk here. Keep both dogs on a leash and let them sniff each other out. If it is a puppy that is being brought in, make sure he or she is not too overbearing with the family dog. It may take a few days for the situation to become comfortable enough that you can let the new dog roam about in the presence of the other one.
Introducing Dogs to Cats
The introduction will be similar but you should not let the new dog go after the cat. Also, you need to be cautious with the cat to ensure he doesn't scratch the dog. It will generally take more time for a cat and dog to adjust to each other when compared to two dogs doing the same thing.